Trustone Cotsdale Limestone Garden Paving
Trustone Cotsdale Limestone Garden Paving
Product Description
Stonemarket Trustone Cotsdale paving is part of the ethically sourced Fairstone range. A sandstone sourced from soutern India, Cotsdale has graduated colour shades from buff to light brown and is hand selected for colour and dimensional accuracy. Suited for more traditional property types, this product would still feel at home in a more modern design. Availavle in 5 different sizes and also available as a project pack.
Available in the following sizes (All measurements are in MM): 855 x 570 | 570 x 570 | 570 x 425 | 570 x 285 | 285 x 285.
Available as a project pack.
Ethically sourced natural sandstone.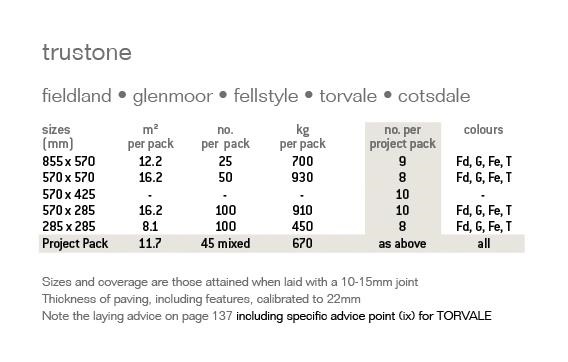 Product Prices
11.7m2 Project Pack, Cotsdale - £378.80 (45 Mixed Per Project Pack)
Need help with buying Stonemarket products?
Technical and Product Queries
If you need assistance with technical product queries, such as suitability for use in specific areas, product specification or general product advice, then please contact Marshalls Technical Advisory Team on:
Phone: 0345 302 0603
Email: sales@stonemarket.co.uk
Availability and Order Queries
If you need to ask a question relating to availability, ordering or delivery, please contact Boys & Boden on the following number or email address.
Phone: 01938 557711
Email: marshalls.web@boysandboden.co.uk