Ryton Utility Riven Garden Paving
Ryton Utility Riven Garden Paving
Product Description
Stonemarket Ryton is a non-decorative utility paving option. Available in three colours, buff, red and natural/grey, this utility paving has a riven profile and is available in two sizes.
Available in 3 colours - Red, Buff and Natural/Grey.
Utility paving with a slight riven profile.
Available in two sizes (all measurements in mm),: 450 x 450 x 32 | 600 x 600 x 38 (please note this larger slab is not available in Red.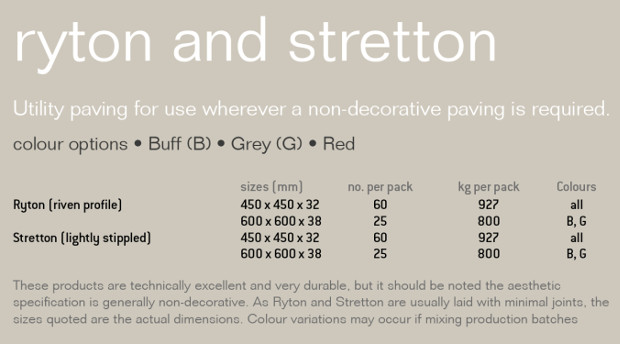 Product Prices
450x450x32, Buff - £254.70 (60 Per Pack)
450x450x32, Grey - £254.70 (60 Per Pack)
450x450x32, Red - £254.70 (60 Per Pack)
600x600x38, Buff - £213.75 (25 Per Pack)
600x600x38, Grey - £213.38 (25 Per Pack)
Need help with buying Stonemarket products?
Technical and Product Queries
If you need assistance with technical product queries, such as suitability for use in specific areas, product specification or general product advice, then please contact Marshalls Technical Advisory Team on:
Phone: 0345 302 0603
Email: sales@stonemarket.co.uk
Availability and Order Queries
If you need to ask a question relating to availability, ordering or delivery, please contact Boys & Boden on the following number or email address.
Phone: 01938 557711
Email: marshalls.web@boysandboden.co.uk
Need help planning your project? Check out Stonemarket range of guides and tools.