Namera Limestone Steps
Product Description
Namera Steps are made to complement the stunning Namera paving range. These steps are available in two colours; Tala Sand & Pyramis Gold and in a single 1000x350x50mm pack
Available in one colour - Tala Sand & Pyramis Gold
One pack size available - 1000x350x50mm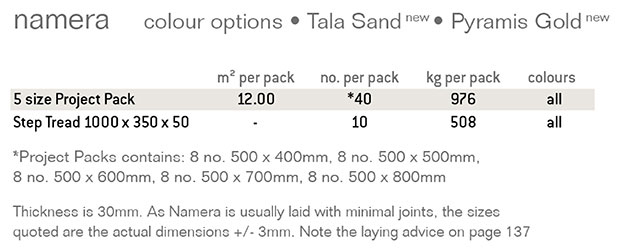 Product Prices
1000x350x40, Desert Brown - £609.00 (10 Per Pack)
1000x350x40, Pyramis Gold - £609.00 (10 Per Pack)
1000x350x40, Tala Sand - £520.80 (10 Per Pack)
Need help with buying Stonemarket products?
Technical and Product Queries
If you need assistance with technical product queries, such as suitability for use in specific areas, product specification or general product advice, then please contact Marshalls Technical Advisory Team on:
Phone: 0345 302 0603
Email: sales@stonemarket.co.uk
Availability and Order Queries
If you need to ask a question relating to availability, ordering or delivery, please contact Boys & Boden on the following number or email address.
Phone: 01938 557711
Email: marshalls.web@boysandboden.co.uk
Need help planning your project? Check out Stonemarket range of guides and tools.