Yorkstone NEXTpave Circle
Yorkstone NEXTpave Circle
Product Description
Yorkstone NEXTpave Circle provides the ideal focal feature to your garden project and with NEXTpave patented base design technology you can save time and money. Colours available include; Weathered Bronze, Old English, York Buff, Weathered Ochre, with all colours available in both a circle and squaring off kit.
Available in two colours - Weathered Bronze, Old English, York Buff and Weathered Ochre
Both a 2.44m circle kit and 2.7m squaring off kits available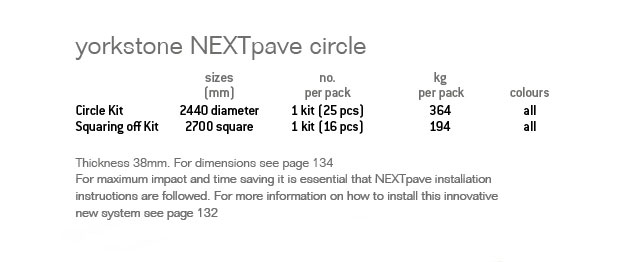 Product Prices
Circle Kit, Old English - £378.33 2.44m Diameter (25 Pieces)
Circle Kit, Weathered Ochre - £388.41 2.44m Diameter (25 Pieces)
Squaring Off Kit, York Buff - £183.59 2.7m Diameter (16 Pieces)
Need help with buying Stonemarket products?
Technical and Product Queries
If you need assistance with technical product queries, such as suitability for use in specific areas, product specification or general product advice, then please contact Marshalls Technical Advisory Team on:
Phone: 0345 302 0603
Email: sales@stonemarket.co.uk
Availability and Order Queries
If you need to ask a question relating to availability, ordering or delivery, please contact Boys & Boden on the following number or email address.
Phone: 01938 557711
Email: marshalls.web@boysandboden.co.uk